Tuition Class for 1st std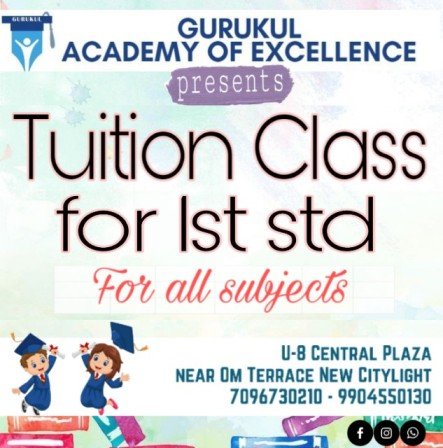 Primary education is basically the first phase of formal education of child will experience, after preschool and before secondary education it is one of the most crucial stages of education that provides many life skills and basic knowledge of several subjects. Gurukul Academy Of Excellence offers Tuition Class for 1st std. Here, children will get the advantage of personalized attention, customized lessons, close observation, test practice, caring and stimulating environment, increase performance, boost confidence etc. Gurukul's teachers are highly passionate about their job; they are patient towards their profession and allow the students to tackle obstacles in their own sweet time. Apart from the unique study methods in study skills teachers provide freedom and support to the students through constant friendly communication.
At Gurukul Academy Of Excellence your child will achieve enhanced conceptual clarity through curiosity inducing experiences and connectivity of concepts to real life situations. Every child gets a personalized session plan based on their grade. On account of individual attention and engaging learning experience children enjoy their time at Gurukul Academy Of Excellence and learning becomes fun.
Tuition Class for 1st std