Live Phonics Classes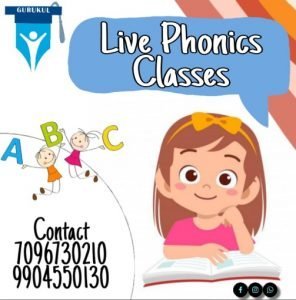 What is the right way of learning Phonics? Language learning is meant to happen intuitively. How did we all learn our mother tongue? We learnt it by listening to the sounds around us; sounds are then translated into words; words then are strung together to make sentences. Fundamentally it is deciphering the sounds that help us learn our mother tongue; if this is the innovative a natural way of language learning, shouldn't we apply the same principal to teach English to our children?
At Gurukul Academy Of Excellence this is exactly what we do; our basic Phonics programme introduces the sounds of English through actions, songs stories and dramatization. Children are encouraged to apply that newly acquired sound knowledge to learn reading and spelling. Honing the listening skills is our first step – through listening to the sounds children learn to read and spell; in the next years they listen more to learn speaking and comprehension all of this eventually lead to structural understanding of the language and result in independent writing. Phonics is the science of learning various sounds in words and thus read and spell. Teaching English reading using Phonics requires children to learn the connections between letter patterns and the sounds they represent. The children learn how to blend the letter sounds together. Phonics helps children crack the English alphabetic code easily so they will be able to read even unknown words.
Grammar is inevitable to read, write and speak good English, but at the same time it shouldn't become boring for the kids. Live Phonics Classes makes key elements of grammar interesting for the children. Be it any of the topics like tenses, prepositions, articles, nouns, verbs, adverbs, adjectives, punctuation etc. Live Phonics Classes lead the way in showing how grammar can be made fun. We use colour coding and options to help children identify the parts of speech in sentences. This also enables children to spell and punctuate more accurately, use wider vocabulary and have a clear understanding of how the language works.
Live Phonics Classes is based on holistic learning approach and contributes towards overall development of kids including linguistic development through phonics reading, writing, grammar and vocabulary building, developing public speaking skills, social skills, conversation skills, developing self confidence, learning social etiquettes, learning answering techniques for academic excellence and above all developing interest in learning!
Live Phonics Classes is an integrated approach for educational as well as personality development of the kids. This course includes periodical assessment and kids a regular track of the progress of the kids. The teaching tools include extensive colourful-picture based worksheets, audio video lessons, interactive and creative learning tools and interactive sessions. This course is conducted by highly qualified and well trained educators.
Live Phonics Classes inculcates reading habits and English conversations capabilities by book reading sessions (different levels) and activities held periodically. The library facility at Gurukul Academy of Excellence ensures availability of books as per the age and stage of learning. This course is divided into three major levels according to the learning stage of the child and every module ensures success and excellence for every learner. the early years of a child's life are very crucial for both formal and informal education. The course ensures holistic development of preschooler kids through cognitive, linguistic, sensual and social development.
The course will cover linguistic development – Knowledge of phonetic sounds familiarity with words and concepts, English conversation skills (asking questions answering questions taking permissions etc). Cognitive development – introduction to alphabets, counting, shapes, colours, knowing the environment, asking questions, giving choices, names of fruits and vegetables, words related with modern life. Social development – greeting and meeting, confidence building, positive body language – social etiquettes, classroom behaviour, developing good habits and hygiene. Sensual development – touch and sounds. Teaching methods and tools focus on informal learning, learning tools and toys, audio video inputs, experience learning and unconventional methods used in formal education.
Live Phonics Classes