Live Craft Classes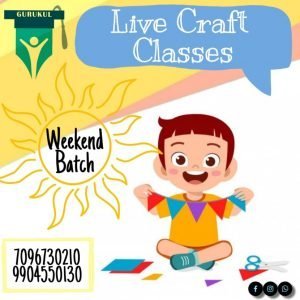 Whether you are an artist or just an art beginner expressing your creativity serves the mind and soul in unmatched ways. In times where we've been staying in our homes more, it may start feel like your creative juices have run dry. However, it's actually the perfect time it to brush up on an old skill or learn new passion.
Gurukul Academy Of Excellence provides Online Craft Classes which offer the courses for all ages like origami, paper quilling, paper craft, card making, scrapbooking, albums, paper explosion boxes, kids craft, birthdays, festive cards etc.
Origami is the art of paper folding and making beautiful art of it. Traditionally, all origami pieces must be folded from one sheet of square paper. Apart from being a great tool in developing spatial reasoning and geometric understanding, origami also teaches patients and concentration. It is also therapeutic and creates a sense of achievement. But above all, it is fun and captivating. In Online Craft Classes by Gurukul Academy Of Excellence choose fun and beginner to intermediate level pieces to fold. Apart from paper, we also make use of other materials like glue, pens and googly eyes. We like to make fun things. The curriculum of Origami course in Online Crafts Classes by Gurukul Academy Of Excellence is origami overview and its history, basics of origami. Learn origami basics folds, Learn to make triangle, square, pentagon accept. Learn to fold and create even more shapes. Learn common origami bases. Origami course provides you origami paper and other origami tools. Rulers, scissors, tweezers etc. Glue clear drawing, suitable for paper. Damp cloth to keep fingers free of glue. Calm, noise free environment. Patience and willingness to learn.
Gurukul Academy Of Excellence provides Online Craft Classes. Quilling is a technique of coiling and shaping of narrow paper strips to create a design or an art. Join the Online Craft Classes at Gurukul Academy Of Excellence and we will teach you all the basics of quilling. Hear at Gurukul you will learn what is quilling and its history, how to use quilling tools, basics of quilling, using the knowledge of quilling to build things. If you like art, beautiful things, or making crafts, you will love this course. If you are seeking an activity to release your pressure or to express yourself, this course could be a good choice for you. If you want to make different beautiful greeting cards, you should try quilling art. This is a basic paper quilling course using step by step method to teach you from basic to advanced. In this course we will teach you all the basic techniques and useful information which you can apply to make other quilling art by yourself. In the Online Craft Classes you will know more about the materials and how to use them. You will learn how to make simple forms first, and the combination of them will give you pretty designs and also objects. You will learn all of the most useful techniques and basic shapes of paper quilling by a systemized tutorials. You will know how to compose complete projects using step by step method. This course is for those who is interested in art and enjoy making crafts. Who like the beautiful things. Who wants to learn a new technique. For joining this course no related experience necessary.
Live Craft Classes