Line art is the term for the drawing of artwork in black and white, or in various shades of grey. The work is executed via lines, shapes, textures, shading and patterns, making it an interesting form of art for people to explore.
Line art is a type of drawing that consists of lines or shapes. Line-art could be created with pens, pencils, markers, and other tools. Line art can also be created on paper too. Line art drawings are different than drawings that incorporate color, shading, or other techniques because they do not use these things to create depth.
Line art is a type of art that consists of shapes, lines, and other marks on paper. Line art can be used to create detailed illustrations or it can be simplified to create abstract pieces.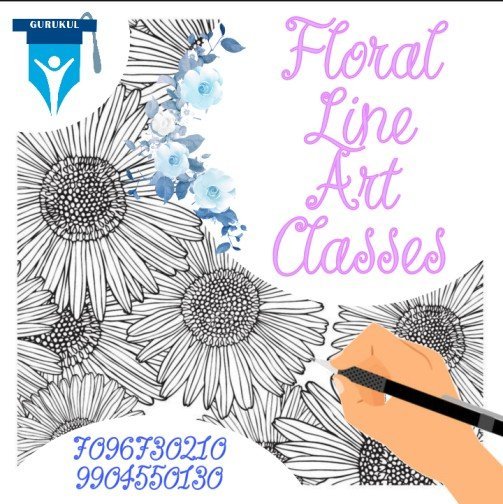 Floral Line Art: A New Twist on a Classic Art Form
Flora Line Art will explore the idea of adding a botanical touch to any design, whether it be traditional, modern, or mixed.There are several ways to incorporate floral line art into your designs. Simple drawings of flowers can be added as accents throughout your design.
The art of drawing is never something that anyone can be born with because it is a skill that must be learned. The lines, the shapes, even the shading, they are all skills to develop and learn. It takes time and patience to learn. It can take years to get good enough to be able to make it look like you know what you're doing, but in reality, this is a skill that many people have been struggling with for decades.
Drawing is fun because there's no right or wrong way to do it. Flowers are also fun because you can sketch them with different lines and shapes. Lines are fun because they can be straight or curved, depending on what you're drawing. Leaves are just as much fun as flowers because they can be sketched too. Even writing words is fun because you can use a pen to make them look nice and neat using calligraphy pens with the ink inside the pen.
Here, in Gurukul Academy of Excellnce each student has a mentor who provides one on one attention to them. The students are not assigned any work, but instead the teacher gives them individual tasks that they have to complete. Students are often given different assignments depending on their abilities, which allows them to learn at their own pace.
If you want to make a beautiful drawing, you'll enjoy this post about flowers. This Floral Line Art Classes will cover how to draw flowers and leaves using the pen and markers. For those of you who are just starting out with drawing, here is a simple way that will give your drawings a large amount of detail without much effort. This is what we will be doing: First, sketch out the basic shapes and lines of the flower and leaf.
I've always loved art and flowers, so when I found out about the floral design class I was very excited. The class is great because it teaches you how to draw flowers and also gives you a lot of tips for drawing them in different styles. It's a really fun and easy class, and the teacher is very friendly.
This class was really enjoyable. I learned how to create floral line art using the design. It was a great class.
In conclusion, there are a lot of benefits to taking a floral art class. In this specific class, students can learn at their own pace and have access to a number of resources. There is also a great amount of information about line art, flowers, leaves, doodle, etc. The instructor, gives a lot of information about line art, flowers, leaves, doodle and other topics for beginners. She also offers classes at any time to accommodate your schedule. Overall, this is a class that should be taken by anyone interested in the subject matter.
If you are interested in learning how to make beautiful, free-flowing floral designs, then this Floral Line Art Classes is for you. Classes are offered anytime and can be taken as a beginner or an intermediate student.
Floral line art class in surat learn flowers, leaves, line patterns, and other floral design techniques.
Floral line art classes are available for those who want to learn more about the history of designs and explore other artistic skills. They're available for people of all ages and skill levels.
Gurukul provides an array of art and craft classes to help children explore their creativity. The Gurukul team offers the following classes: drawing, painting, sketching, paper cutting, clay modelling, origami, and many more. Many of the teachers at Gurukul are professional artists and designers themselves who work closely with each child to help them reach their own creative potential. For those who enjoy doing art and enjoy flowers, a class that is just for you! The class will be geared towards people of all ages and abilities. People as young as ten years old as well as people as old as seventy can join the class to make beautiful Floral Line Art . No previous experience is necessary, only the desire to create beautiful art with flowers.