Tuition for Social Studies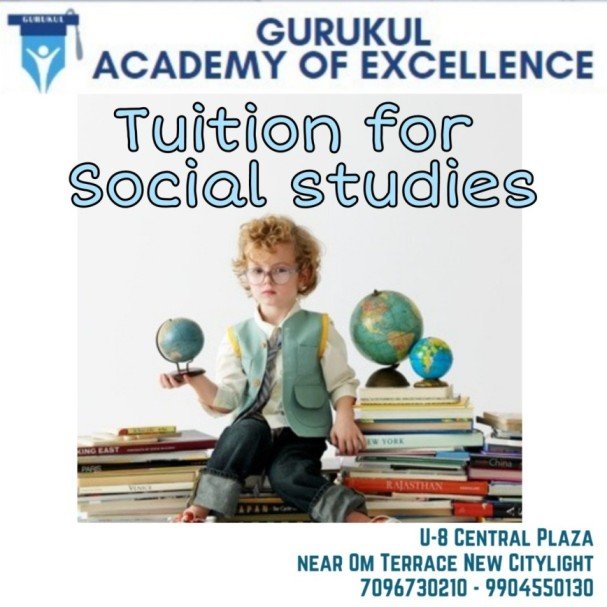 Social studies is a part of school curriculum concerned with the study of social relationships and the functioning of society and usually made up of courses in history, government, economics, civics, sociology, geography and anthropology. This is so important because it teaches us about past and current events, human interactions and human history. Social studies widens our perspective on the world we live in. All students will be required to take Social studies at some point during their time in school because it touches on so many different topics so it only makes sense to have a solid understanding of the topic. However, there are still courses that are explicitly entitled Social studies that students will have to pass in order to keep moving forward on their quest to get an education. Many students find this topic dry or just plain unimportant. However, Social studies should not be pushed to the back burner as it is extremely vital in education and our lives. The key to helping a child succeed in this dense topic is by joining Tuition for Social Studies.
Social studies classes start at a young age, sometimes even as early as preschool in some schools. There are a variety of ways that this course matter is introduced but for the most part, it comes from the several hands on activities that your child is doing in class. Things such as project or working together in small groups all are considered Social studies. However, not all students do well in these types of activities and because of this, you might see that a child is lacking some confidence and social skills as well as grade marks. In order for this to the something that your child can get through and move forward, they need to work with the Social studies tutor. At Gurukul Academy Of Excellence we have the professionals who are willing to sit down with her child and help them in ways that you as a parent may not be able to. it is important that they pick up these skills early on so that they can grow into fantastic adults. It starts right there with their knowledge of Social studies.
As your child continues to grow the curriculum start stepping away from social situations and starts focusing on book work. In fact, your children might find themselves getting into trouble if they are being too social or talkative during Social studies lessons. This is usually rooted in the fact that your child is struggling to pick up the subject matter. When a child is confused or unable to really learn like the rest of the children they are more likely to lash out. To avoid this from happening you know that you need to find a Tuition for Social Studies for your child. They will be able to assist your child but the learning materials and make sure that they are on the same level as the other children. Sometimes what it takes is a change of pace for your child to start seeing things in a different light.
Since Social Studies covers so many different topics it might feel a bit overwhelming or simply not interesting for your child. This is because they are looking through things in the lens that has been set up by their teachers. This might not be the best way for your child to look at this material. When our tutors are able to work with your child they will have them thinking outside of the box. Social Studies is important to our growth as people and if seen in the right light your child can really see all this class has to offer. In turn, they will become better students and better people overall. This class is not something that should be taken lightly as it is building a foundation for several other classes to come in the future.
If your child struggled in social studies when they were younger and now transitioning into a higher grade, they will certainly still struggle. These problems are not just going to disappear unless they are addressed. There is no better way for the issues to be eliminated then with the help of someone who is a professional. Our tutors are college educated and have experience teaching. So your child will essentially have their own personal tutor. This is what you will receive when your child is matched with one of our fantastic tutors.
Tuition for Social Studies at Gurukul Academy of Excellence makes students learn features about geography, history, civics and economics at length. The students can seek help from Social Studies tutors who help them in resolving all the doubts pertaining to historical facts, geographical grounds and civics base. Tuition for Social Studies helps students in knowing more about their subjects to ensure they score better. We follow the guidelines of respective boards and keep the syllabus of the NCERT, ICSE and CBSE in mind while teaching the kids. Social Studies tutoring programme uses a unique approach in that it offers unparalleled flexibility to meet your child's learning needs while simultaneously saving you both time and money. all our tutoring programs are customised according to the individual requirements of each student. Tuition for Social Studies has in depth study material and trained Social Studies tutors who can effectively make Social Studies lessons interesting and easy to understand.
Tuition for Social Studies