Quilling Class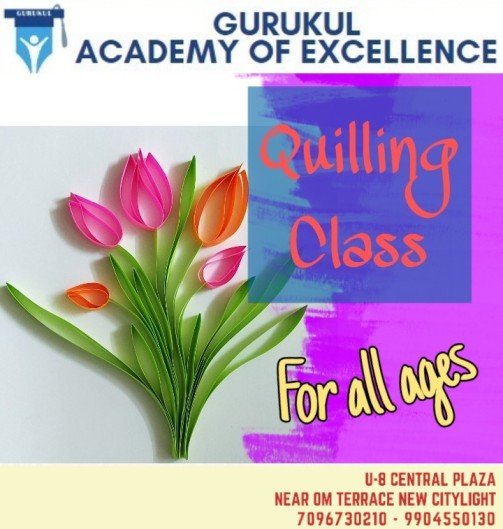 Crafting is fun, and there's no denying its wonderful ability to help children develop their creativity, personality and fine motor skills. Children and adults alike take joy in seeing something that they have made with their own hands come to life and become a thing of beauty. This craft course is a celebration of that joy and one that will bring a smile to every child's face. This course is open to all levels. No previous crafting experience is required. All you need is a little bit of time and your imagination. Whether you are an artist or just an art beginner expressing your creativity serves the mind and soul in unmatched ways. This Quilling Class is for everybody who wants to start paper crafting. No worries if you have never done crafting before or don't feel talented. Everybody can do it. If you would like to tap into your creative side and learn crafting such as: card making, origami, quilling, scrapbooking, mixed media, handmade crafts etc. then this course is for you.
Gurukul Academy of Excellence is presenting Quilling Class in this class quilling export explains the different types of quilling papers and tools needed to create different effects. Then, they Thor only demonstrate many beginner and intermediate shapes and techniques while passing on there tried-and-true quilling tips and tricks for success. You will learn how to roll loose and tight coils inform them into flowers, alphabet letters animals, 3D shapes and much more.
Quilling Class is designed in such a way that it is useful for the beginners as well as the experienced quillers. The methods used here are simple to digest yet effective enough to create some extra ordinary artworks. Through this course we will share with you not only the basic techniques of quilling but also every little tips and tricks that will help you to learn better. By joining this course you can learn to create wonderful piece of art such as greeting card, photo frame, colourful butterflies, birds, flower bouquet, decorative wall hangings and many more. The technique of quilling requires some time to get accustomed to but once you adopt to it your level of creativity will be beyond your imagination. After taking this quilling course you will not only be able to create gorgeous artworks, you will feel immense joy while working with the colourful quilling strips. It will also enhance your patience and it will work as a tool of meditation which will increase your concentration level manifolds. So dive into the creative world of Paper Quilling. In this course you will learn to make various quilling shapes, techniques by doing many beautiful quilling projects. You'll get accustomed to quilling paper and different quilling tools. You will learn different quilling techniques from this course and use it to fuel your imagination to create masterpieces
In this Quilling Class you will learn:
About quilling paper strips and how to roll them perfectly every time.
What glues work best, plus reliable gluing techniques
How to use tools made for easy quilling
How to turn a basic coil into teardrops, hearts, leaves, flower petals and more
How to create scrolls used for lettering
How to use a crimping tool to create dimensional strips
How to create 3D roses and other shapes
How to master techniques, including beehive, combing, end-to-end, molding and more
Quilling Class