Paper Quilling Course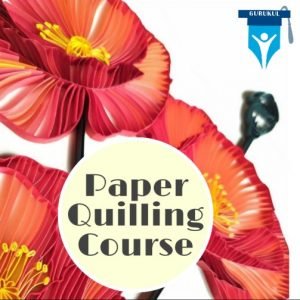 Crafting is fun, and there's no denying its wonderful ability to help children develop their creativity, personality and fine motor skills. Children and adults alike take joy in seeing something that they have made with their own hands come to life and become a thing of beauty. This craft course is a celebration of that joy and one that will bring a smile to every child's face. This course is open to all levels. No previous crafting experience is required. All you need is a little bit of time and your imagination. Whether you are an artist or just an art beginner expressing your creativity serves the mind and soul in unmatched ways. This Paper Quilling Course is for everybody who wants to start paper crafting. No worries if you have never done crafting before or don't feel talented. Everybody can do it. If you would like to tap into your creative side and learn crafting such as: card making, origami, quilling, scrapbooking, mixed media, handmade crafts etc. then this course is for you.
Origami is a great activity for people of all ages and skill levels. It's easy to learn, but difficult to master. Learning Origami gives you an activity you can share with others and enjoy your entire life. Origami course is designed for complete beginners or people with little experience in origami. this course is for anyone looking to build a strong foundation in their original skills. you will learn how to fold over 25 different origami models. In addition, you will also learn how to fold 8 origami bases. Bases are the building blocks of origami. They are fundamental to origami because many origami are made from a base, each base can be made into almost anything. Sometimes basis can be made into other bases. First you will learn how to fold a scientific base, and then you will directly apply your new knowledge by folding origami using that base. Starting with the basics, the course will cover choosing paper and how to cut out a square from any rectangular paper. After that you'll learn about the two basic types of folds in origami. Then you will practice right away by folding your first origami of the course: a flower. Next, you will learn other types of folds and practice these by folding a stem for the flower. Next you will learn about the helpful tools in origami, how to use them and tips and tricks in making amazing origami creations. Then you will dive right into folding. First, you will learn to fold origami models which require no base. For origami made from bases, you will learn each base and then fold origami which can be made from that particular base. After completing the course, you will have the skills and knowledge in order to fold even more complex origami. This course will allow you to work at your own pace and master origami fundamentals.
Students will learn the elementary level of origami crafts. When students complete this course, he or she will be able to fold origami crafts, such as several patterns of airplane, boats, animals, birds, crabs, boxes etc. At the end of this course students will be able to fold many origami crafts. Once you complete this course, you can create many things from a piece of paper. Many other children will think that your kid is a magician. It is good for kids to have creative skills. In this course you will learn basic of traditional origami craft and how to draw expressions of the face. You will learn to fold over 25 origami: sailboat, elephant, crane and more. You'll learn how to choose paper and tools for origami. Tips and tricks for folding origami. How to fold 8 bases fundamental to origami paper folding. You only need papers and scissors for origami, usually a lot of square papers. In this course learn the basic methods, tools and techniques used in the ancient Japanese art origami paper folding. you will get to know the tips for choosing origami paper, how to cut out a square piece of paper and helpful tools and how to use them.
The only thing more gratifying than giving the perfect gift is giving the perfect handmade gift. A handcrafted gift shows the receiver that you thought about them and is truly an expression of love from one person to another. Handmade craft class is the perfect guide to making things that people will love n cherish and it's fun and easy to follow for children. With many projects for gifts and loads of gift wrapping ideas, you will be ready and set for every occasion. from New Year's to Father's day and Christmas to Diwali, there is something for everyone on your list. Whether it's for your child's teacher, your best friend's birthday party, you will find an idea for a personalised gift in this ultimate handmade gift giving course. Each level of learning handmade gifts will be explained clearly by the tutors from start to finish, simple step-by-step instruction, and a full list of everything you'll need to see your gift come to life. The handmade gifts and crafts course is open to all levels. No previous crafting experience is required. You learn to create numerous crafts based on holidays and special occasions. You'll master various crafting techniques, this course will build your child's fine motor skills and creativity. You will learn gift wrapping tips and ideas to make each gift extra special. With this course you can improve your crafting skills and gain confidence in a creativity
Paper Quilling Course is designed in such a way that it is useful for the beginners as well as the experienced quillers. The methods used here are simple to digest yet effective enough to create some extra ordinary artworks. Through this course we will share with you not only the basic techniques of quilling but also every little tips and tricks that will help you to learn better. By joining this course you can learn to create wonderful piece of art such as greeting card, photo frame, colourful butterflies, birds, flower bouquet, decorative wall hangings and many more. The technique of quilling requires some time to get accustomed to but once you adopt to it your level of creativity will be beyond your imagination. After taking this quilling course you will not only be able to create gorgeous artworks, you will feel immense joy while working with the colourful quilling strips. It will also enhance your patience and it will work as a tool of meditation which will increase your concentration level manifolds. So dive into the creative world of Paper Quilling. In this course you will learn to make various quilling shapes, techniques by doing many beautiful quilling projects. You'll get accustomed to quilling paper and different quilling tools. You will learn different quilling techniques from this course and use it to fuel your imagination to create masterpieces
Make someone's day by giving them a personal handmade card. Instead of wasting energy searching for a shop bought card, invest your time in creating something beautiful. Our course equips you with the card making ideas, tools and skills you need to make your own cards for every occasion. Imagine the sensation of designing a unique card for someone dear to you. You will be able to:
Gift a card that will be treasured forever. Enjoy 'being in the moment' as you put your mind and soul into card making. Unleash your creative side which is great for your mental health. Express yourself through your craft and celebrate your own uniqueness.
By creating a handmade card, you will:
Make people feel loved and cherished. show you care enough to take the time to create something just for them when you could have sent a quick text instead. Personalise every special occasion for the people in your lives. When you make your own card, it has a positive impact on you and the person you send it to. After each module in our creative card making for all occasion course, you'll put what you've learnt into practice. You will be making cards as you learn. Start making wonderful cards now. Under our expert teachers' guidance you will discover: All the skills and tools you need to make your own Christmas cards, birthday cards and cards for every occasion. Different types and sizes of paper for card making. Basic card making tools you will need-and things you won't need. Wide variety of inks to make your own cards. At the end of the course you will have your own projects to do.
Paper Quilling Course