Online Painting Class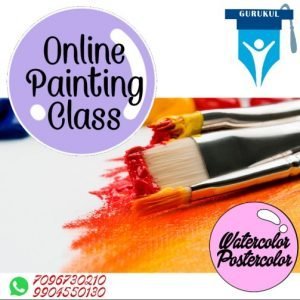 At least once in our life, all of us have tried our hand at painting, sketching or drawing something. We start painting step by step, try to finish and either get successful and complete our artwork or leave it in the middle out of impatience or for not getting desired results. But, all of us out there always really want to make that one art piece once in our life, either to show it off or just for our own satisfaction. Well, we at Gurukul Academy of Excellence here to help you out to learn painting step by step. Online Painting Class is welcome for everyone! Whether you are a beginner or an experienced artist, you will discover the joy of painting and learn how to infuse modern techniques into this easy-to-use medium. After taking this Online Painting Class, you will have everything you need to pick up paint brush and create your own masterpiece. Whether you are a beginner or advanced artist looking to expand your painting techniques, this class covers it all. You'll learn about the art supplies including paint brands, paper and brush types. Tips for sketching out the perfect composition. Mixing vibrant colour palettes. Brush control techniques so you can create the perfect stroke. Painting with whitespace in mind blending hues together on paper. Fixing mistakes as you paint, like splattered paint or wayward brush strokes. Adding in tiny details to your painting. The Painting Class at Gurukul Academy of Excellence has various courses for different painting mediums.
Take the next step on your painting journey. With these Online Painting Class at Gurukul, you can learn about a wide range of painting styles and techniques to help you create better portraits, landscapes, abstract works of art and beyond. Whether you are looking for painting for beginner or you're already an experienced painter, you can take your skills to the next level with these classes in watercolor, acrylics, oil painting, sketching, portrait and more, all taught by talented painters and artists. If you are looking for painting ideas, these painting classes are filled with inspiration and you will get hands-on experience by completing and sharing your own painting projects.
In the oil painting class we will help you paint your own masterpiece using what you have learnt during the complete course. Painting with oil colours require specific tools, techniques, skills and planning which we will cover in this course and with time you will build your own unique artistic style. We'll walk you through every essential step to paint your masterpiece in this course. This course is absolutely for everyone like beginner painters, intermediate painters, artists, master painters. In this course you will learn to choose appropriate materials, sources and tools for oil painting. Mix and apply values of colour to create the illusion of light and form in a painting. Paint directly, mixing and applying colours as they are observed. Mix colours and apply colour theory to paintings. Mix mediums to alter the behaviour of oil paints. Paint with various painting knives to create impasto effect. Create abstract and non- objective paintings.
The acrylic painting course is a comprehensive painting course designed to guide absolute beginners to a level of producing professional quality acrylic paintings. This course lays the foundation required for success with acrylics and painting in general m students are guided through a series of logically-sequence course modules that build upon the last covering the following topics:
Materials, surfaces and tools. compositional makeup of acrylic paint and brushes commonly used for acrylic painting.
Light and Form. How to mix and apply values of a colour to create the illusion of light and form within a scene.
Learn the process of transferring images to a Canvas and painting directly by mixing colours as they are observed. Apply layers of colour applications to finish your painting that accurately communicates the subject through direct painting.
Colour theory in action. How to apply colour theory in your paintings to create harmonious works.
Acrylic mediums. A look at various acrylic fluid and gel mediums that can be used to enhance the versatility of the medium. This course is designed for beginner and intermediate artists.
In the abstract painting course you'll learn the different materials to create a painting. Learn to use composition from scratch. Learn five different compositional formats. Learn to create an abstract from beginning to end. Learn what makes a great painting. Learn these 5 compositions and you will be well on your way to creating great abstracts with ease. These examples will boost your knowledge of abstracts and increase your skills. With an understanding of these compositions, you will increase your chances of getting better and faster in the creation of your abstracts, step by step examples lead you through each composition and you can follow along. All you need is canvassers to paint on, a few brushes and your favourite acrylic colours. You can create each painting in a few evenings. Join us in creating some easy and fun abstracts that will look great on your wall. You could even create each painting more than once using different colours. You will discover which composition is the best for you. mastering these compositions will jump start your art practice and you will have fun at the same time. This course is for the beginners or for those who want a refresher, artist that love abstracts.
The sketching course is design to work for everyone, even students who claim they can barely draw a stick figure! It's made to help you to progress quickly and get to enjoy drawing. By the end of the course you will have learnt and applied a step-by-step approach to drawing. And with practice, you should be able to produce academic quality drawings of any subject your heart desires. This course is for anyone from absolute beginner to experienced artist who want to learn or master a traditional drawing and sketch technique. Anyone who wants to learn a creative skill that's built on drawing, like painting architecture or design.
You have a passion for drawing the human face and using it to tell your stories, express your visions and drop foot rates. This is who you are. It's your calling and it's deep, and we are here to guide you on your way to reaching your goals. Discover our portrait drawing course for drawing the human face. In this course we are going to help you draw the face really believably in the style you choose and apply it to your career or personal visions. You will be able to do it quickly with a purpose in a way that is clear and carries meaning to your viewers. at the end of this course you will learn to make awesome portraits that you can feel proud of and attract attention. In this course you will learn face drawing step by step create your own portrait masterpiece. How to draw portraits more believable. Master the fundamentals such as: how to see like an artist, construct solid forms, features, anatomy and more. Drawing from imagination.
In the watercolor class you will be learning to methods to go about creating abstract watercolor paintings: one that is freeform and improvisational, where you jump right in and learn to trust your creative instincts; and another involves brainstorming and planning out your work before putting paint to paper. Planning out a painting is often easier than jumping right into the immediacy of improvisation, Sudheer bi sharing our artistic process with you, step by step, you will be learning the principles that make this method fun, inspiring and apply it to your own creations. I will be giving you little tips and tricks along the way that are particular to watercolor and helping it work for you so that you can create your own free form and planned process watercolor paintings. Subjects we'll cover are:
A close look at brushes and different types of watercolor. Creating water colour swatches to become familiar with your colours. Tips and tricks to make your watercolors work for you. Simplifying your choices to help you get started. How to create abstract paintings through freeform and planned process. Learning ways to release yourself from fear while you're painting. We'll show you exactly how to create different abstract paintings from start to finish. The creative process is often a mysterious, seemingly untameable thing, but we break it up for you here, so that you can take away new principles about process, design and the world of watercolors; and hopefully inspire you to create your own.
Online Painting Class