Mandala Art Class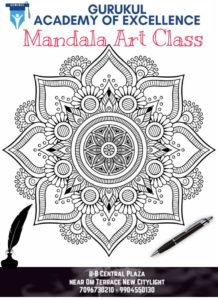 A Mandala represents the universe that is beyond one's consciousness. It is a symbol of wholeness. In one way it can be seen as a cosmic diagram that reminds us of our relation to the infinite, the world that exists both beyond and within our body and mind. The 'circle with the centre' represents the basic pattern of creation. Mandala art provides a meditative experience and relieves stress as well as improves concentration.
Learning an art is such an exciting journey. It allows you to explore various techniques, colours and express your innermost thoughts in a sublime manner. In the digital world of the 21st century, the pace of life is so frantic that each of us in need of of an artistic outlet to vent out power pent up emotions. What can be a better option than the soothing and spiritual art of mandala?
Mandala – This therapeutic art, hailing from the Himalayan highlands has geometrical patterns that are so intricate, complex and yet so enticing . The name mandala traces its origin to the Sanskrit word 'Mandal' meaning a circle. The art of mandala is firmly rooted in the spiritual beliefs of Hindu and Buddhist religions. These religions believe that the universe is endless, just like a circle which doesn't have a beginning or an end. Just like this circle, the circular mandala art design also brings from a central point and expands outwards in various layers and curves.
Gurukul Academy of excellence proudly offers its Mandala Art Class that guides the art enthusiasts and hobbyists to learn the art of creating beautiful Mandala designs with paint, brush pens and technical pens, right from scratch – in simple, easy to follow steps. In Mandala Art Class you will learn how to draw Mandala with grid lines and without grid lines, symmetrical and non-symmetrical on paper. Further learn how to draw Mandala with pen and brush, on different surfaces like canvas, fabric, paper and MDF board. This course I will also teach you the correct painting techniques needed to complete beautiful paintings. Step into the artistic world with Gurukul, learn to draw Mandala with our expert instructors and discover the talented artist within you. All the tools and materials needed for the course are provided by us as a single ready to use kit.
Learn how to draw and build beautiful, intricate mandalas in Mandala Art Class at Gurukul. If you have been intrigued by these patterns and thought they were difficult, then don't worry at all. We help you practice patterns and give you tips and tricks to develop mandalas that can quickly turn into an addictive hobby for you. Drawing Mandalas and zentangle art don't require extraordinary artistic skills, but the understanding of a framework and a basic drawing technique. That's what we will be covering in this class. Once you learn how to prepare and create a layout, everything else becomes a play. Buy drawing mandalas you improve the focus, calm or unwind your mind and have endless options to express creativity.
This course is for you if you are a beginner and want to learn how to draw a variety of Mandala designs. You've  been creating mandalas for a while and need some inspiration. You love the Zentangle method and want to create some new containers to play with tangles and repeating patterns.
In Mandala Art Class you'll discover a wide range of design elements inspired by traditional Asian mandalas. By the end of this class, you will have all the knowledge you need to continue drawing mandalas, making each one unique. We will give you tips on what equipments to use for drawing mandalas. You'll need geometry compass, pencil, protector, ruler, eraser, thick white paper, smudge proof fineliner pen. In Mandala Art Class you'll learn how to draw a Mandala template. How to draw an Asian inspired Mandala, it's a lot easier than it looks once you know a few simple techniques. A step-by-step guide on how to create an intricate Mandala design. Delicate designs and detailing. Understanding of how you can experiment with different styles, colours and techniques to make your own unique designs. You'll experience art therapy and mindfulness. You'll learn tips and tricks to make beautiful, intricate designs that are much easier to create than you'd imagine. A brief story of mandalas and how to use them as an aid to relaxation. By the end of the class you will be able to draw stunning, intricate Mandalas.
Gurukul Academy Of Excellence in presenting Mandala Art Class in Surat. A mandala is a complex abstract design that is usually circular in form. Mandalas are generally have one identifitable center point, from which emanates an array of symbols, shapes and forms. Learn how to draw a mandala in our Mandala Art Class. We will teach you all how to construct the colourful mandalas with different patterns and styles.
Mandala Art Class